Every new year heralds the coming of the electric car and every year we are left disappointed, yet hopeful, for the future. The past year wasn't the banner year in electric vehicles that the industry was hoping for it was a far car away from failure. While we didn't see a full blown revolution of our automotive industry, there's a growing movement around the world to put a deadline on the life of the internal combustion engine.
Choices, Choices, Choices
Governments from India, the UK, the Netherlands, and the world's largest auto market, China, announced sweeping changes to phase out gas powered vehicles. This has led to every major automotive OEM announcing plans to build multiple new electric vehicles over the next two years. Companies that jumped in on EVs early on like Tesla, GM, and Nissan have a sizable technological lead (especially Tesla) but the entire industry looks to invest billions to catch up rapidly.
All this means is if you're looking to buy an electric car in 2018, you'll have more options than ever. Tesla's Model 3 will start shipping in large enough numbers to start filling some of the 400,000 back orders. Nissan's 2018 Leaf, an update to the original electric car for the masses, has some new tech tricks, and a much farther range. Not to mention, GM's award-winning Chevy Bolt should start to roll off factory lines in mass. Plus, brand new vehicles from major OEMs Jaguar, Hyundai, Honda, Mitsubishi, Audi and others start-ups like NIO. If your plan is to go electric 2018 is a great year to start.
Just Like New
Its no secret that both Chevy and Tesla have drawn a line in the sand on low-priced, high-range EVs with a gult of others quickly looking to announce more. What is surprising is how this will affect the used car market. Up until recently EVs have not been widely availble, this year is much different because we will finally have a mature used EV market.
Look no further than Tesla, bargain hunters can pick up a used, high milage Model S as low as $40K. Considering these vehicles retail between $70K-100K+ off the factory floor getting one for roughly half that is quite the deal. Furthermore with Tesla's ability to provide over-the-air updates (hardware permitting) used vehicles can obtain autopilot features (late September/early October 2014 Models and after), making some used models a seriously great deal. The even better news for Tesla fans, these prices are only going to fall further as new models roll off the factory line.
However, if you're worried about high miles you shouldn't be (Here's a story of what happens to a Tesla after 100,000 miles). Tesla has an 8 year, 100,000 mile warrenty on their vehicles. Beyond that Tesla batteries can easily hit 200,000 miles+ without any issue
If the high-end market is a little out of your price range, you shouldn't fret as Tesla wasn't the only one making EVs this whole time. On the wholesale market you can even find a few decent EVs priced as low as $4K (No Joke). These low-end vehicles won't dazzle like a Tesla and don't have anywhere near the range (60-120 miles), but they do make great daily commuter vehicles. Taking into account most Americas daily driving averages around 40 miles roundtrip you'll realize just about everyone could find room for one of these in their garage.
Charging into The Future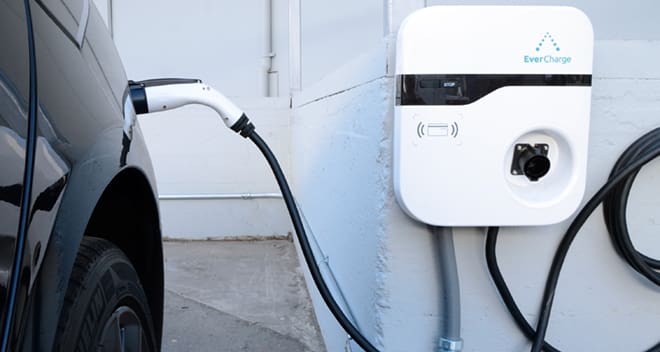 Its true ample choice will help propel the industry forward access to charging has long been a perceived pain point for electric car owners. However, as the new year rolls in multiple efforts are being made worldwide to overcome this last hurdle.
Tesla has already committed to building out many more Supercharger stations and expanding its destination charging program worldwide and many government programs have started rolling out funds to further fast charging networks. As always EverCharge has led the charge in urban environments bringing access to charging to some of the most difficult charging scenarios in every major North American metropolis over the past year.
The charging movement is in full force bringing EV owners everywhere dedicated charging at home for day-to-day needs and fast charging programs for long distance journeys. As 2017 closes out those who are looking to take the plunge into electric cars will no doubt leave range anxiety behind.